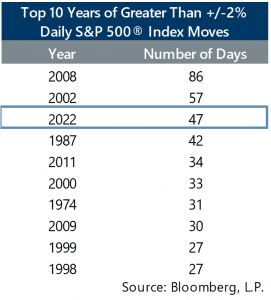 Growth in short-term S&P 500® Index options may be contributing to the high frequency of large one-day and intra-day market swings this year. Through October, there have been 47 days in 2022 when the S&P 500® Index has had a daily price change in excess of +/- 2%, already placing 2022 third in the ranking of years with the highest number of such moves since 1950. During the first two weeks of October alone, the S&P 500® Index moved up or down over 2% on half the days (five out of ten) and had an intra-day move of over 5% on October 13.
For more Perspective, see "Is the Index Option Market Creating Volatility?"
*For more information and access to additional insights from Gateway Investment Advisers, LLC, please visit www.gia.com/insights.